Welcome to our in-depth product walkthrough series where we grab our magnifying glasses and get down to the nitty-gritty on a particular aspect of the Buildr app.
This week, we're getting granular on all things Opportunities—a major component of the project details you'll want to properly log as you start to fill your project pipeline.
When it comes to Opportunities, you'll initially start at the Company level. Let's create a hypothetical Opportunity within a company, Rincon Development: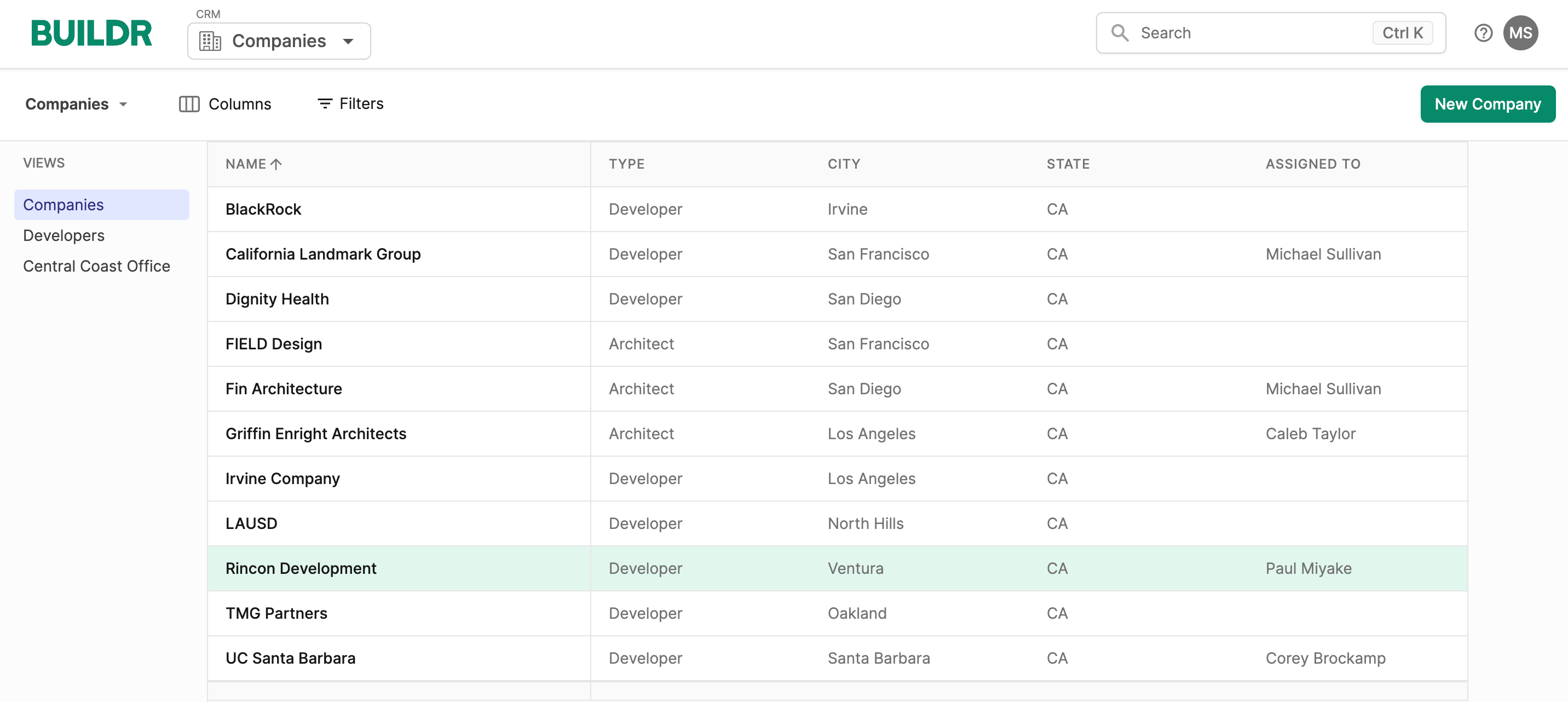 Rincon
Next, we'll go into into the Opportunities for this Company: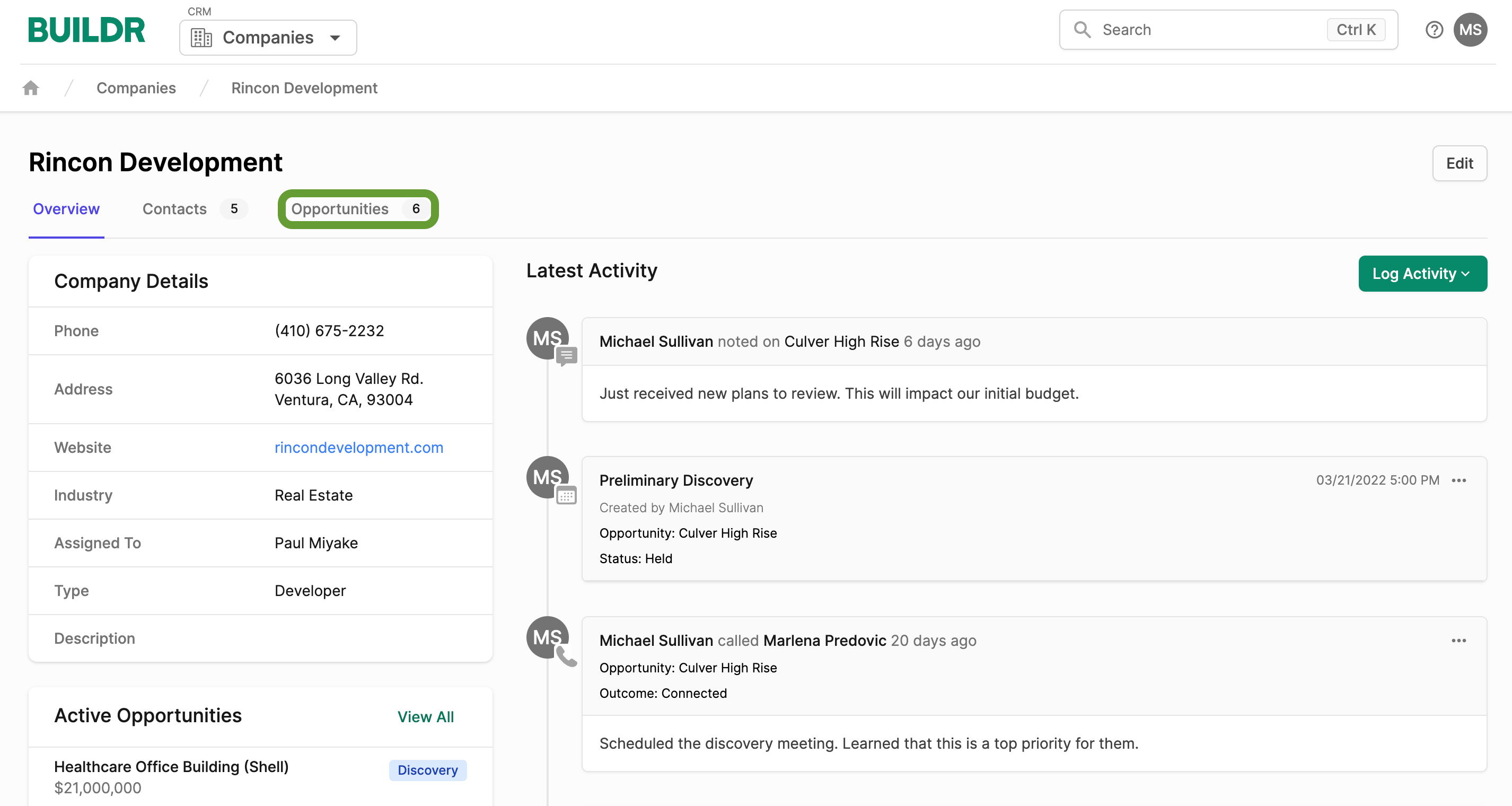 Rincon
As you can see, there are 6 current Opportunities within Rincon Development. You guessed it; there's about to be 7. Word on the street is that Rincon Development is getting cracking on Dodger Stadium 2: The Sequel. This is huge news, and perhaps the biggest sequel since either The Godfather Part II or 22 Jump Street.
In the world of construction business development, an Opportunity is a project that belongs to a Company with assignable stages ranging from "Discovery" to "Won."
Let's create Rincon's newest Opportunity from scratch, shall we?
First, we'll click "New Opportunity."
rincon
Next, we want to fill in the Opportunity name and choose the correct stage: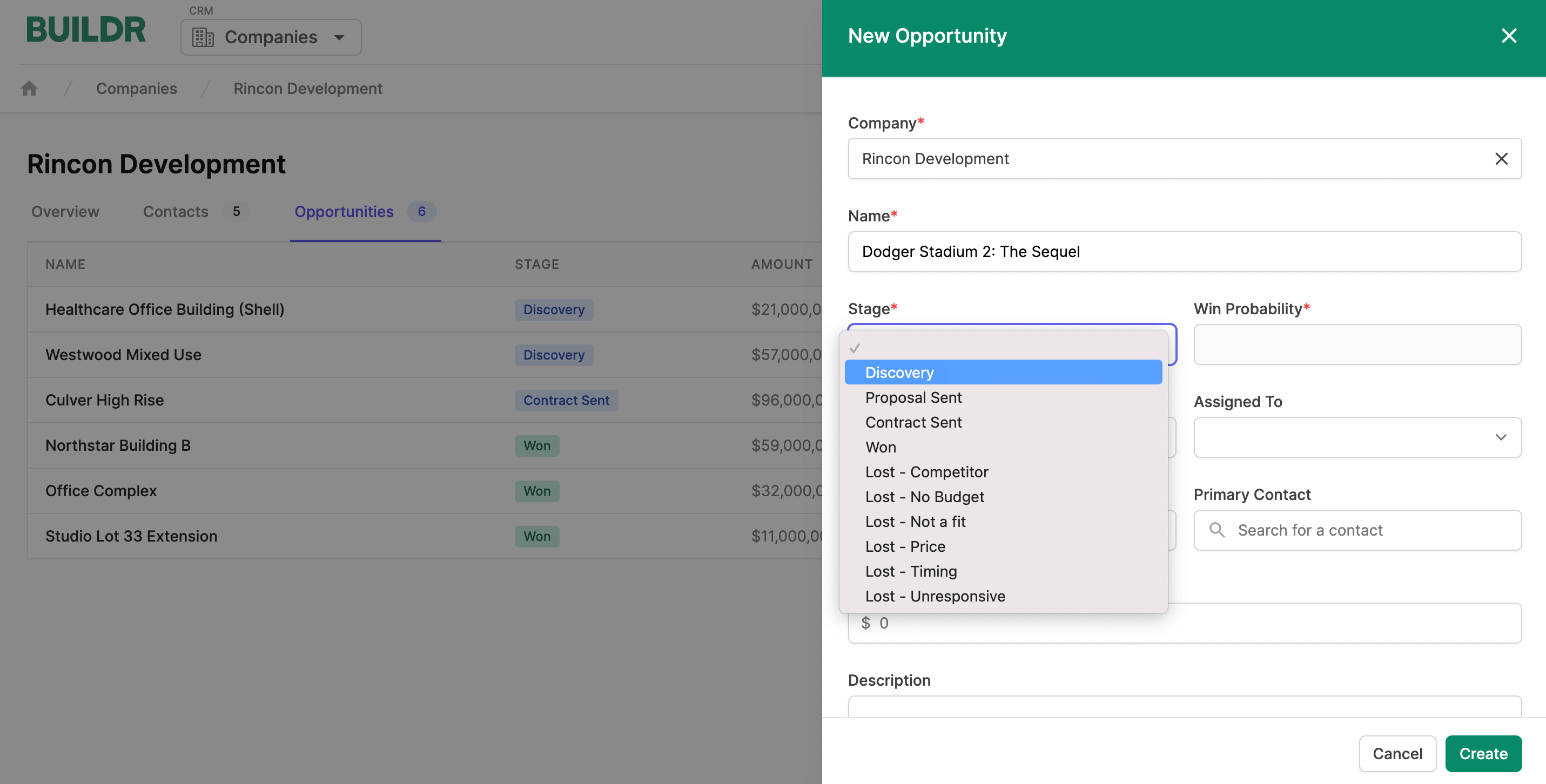 rincon
Default Opportunity stages in Buildr are:
Discovery

Proposal Sent

Contract Sent

Won

Lost - Competitor

Lost - No Budget

Lost - Not a fit

Lost - Price

Lost - Timing

Lost - Unresponsive
Schedule a Buildr CRM demo & mention this blog
You'll get a FREE Buildr hoodie or Buildr coffee mug
See a Demo
We'll choose "Discovery" and fill out the rest of the relevant information we have: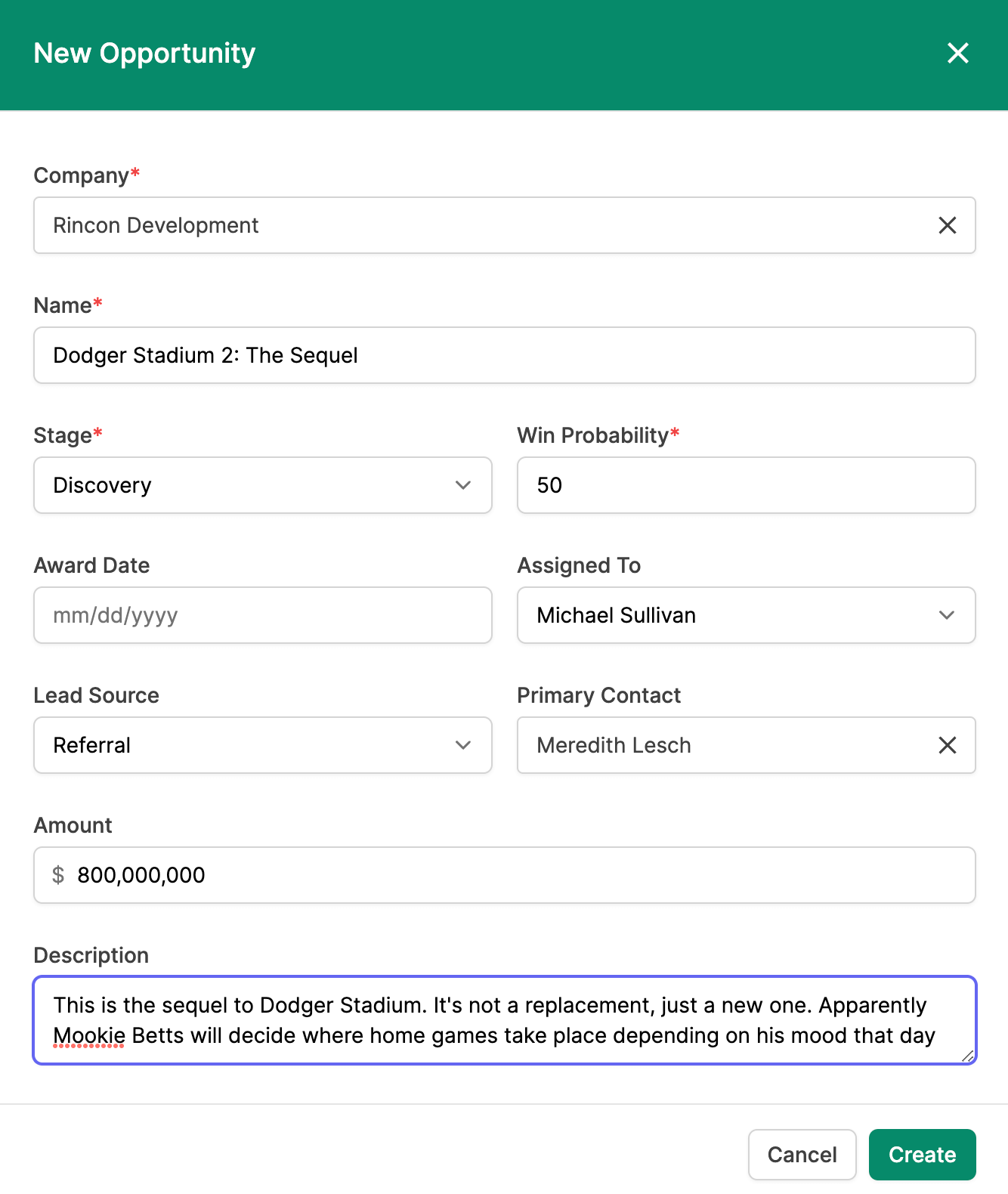 rincon
As you can see, we assigned this project to the best person for the job, me. Other important Opportunity to-fill's include Win Probability, Lead Source, Primary Contact, and Amount.
Win probability will vary. The more data you accumulate over time, the more analytically-informed arrival to this percentage you'll be. When it comes to revenue forecasting (stay tuned for a future walkthrough article), this percentage will also play a major role.
Lead source will also vary, though the default options are: Public Bid, Referral, Repeat Customer, and Website.
All of these pieces of information are important to keep track of, especially when it comes to accumulating and analyzing project data over time; the more data you collect, the more patterns will emerge, and ultimately the smarter your business development process will be moving forward.
Next, we'll fill out the locational data of this Opportunity: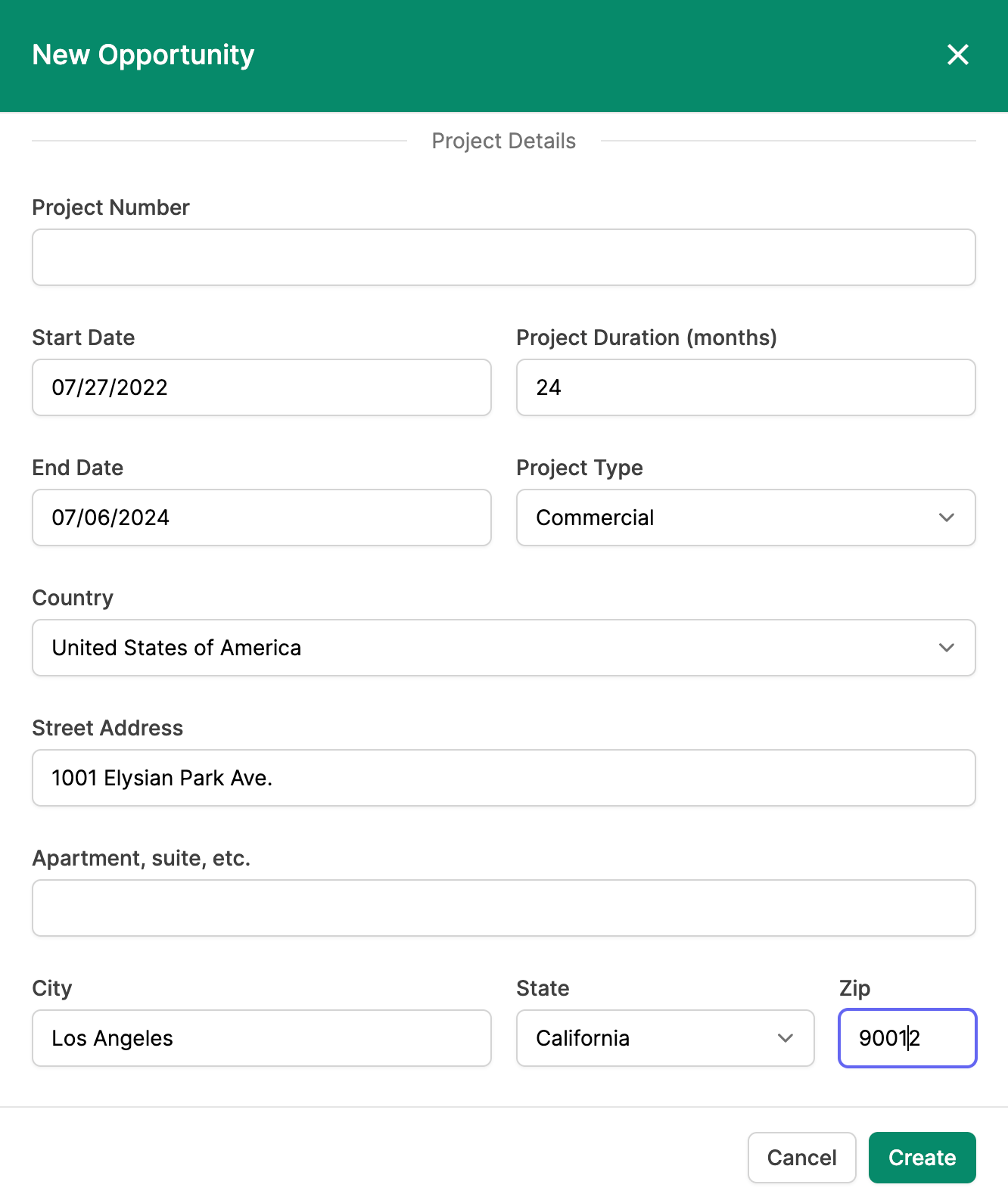 rincon
Relevant Opportunity information in this section includes Project Number, Start & End Dates, Project Duration, Project Type, and Address information. Project Number will be important when it comes to kicking successfully won projects into Procore (if Procore's your course-of-construction platform of choice).
Additionally, we can assign a Design Team.
Custom Fields
If there are use cases of new Opportunities that happen to include info that falls outside the normal default fields, worry not. A crucial aspect of data logging within Buildr is the flexibility with Custom Fields. An example would be if Rincon Development had an architect they always work with; you'd add a Custom Field Group to Design Team and the Custom Fields in this case could be Company and Contact.
And that's that. Now we can get a bird's eye view of all our Opportunities within Rincon Development: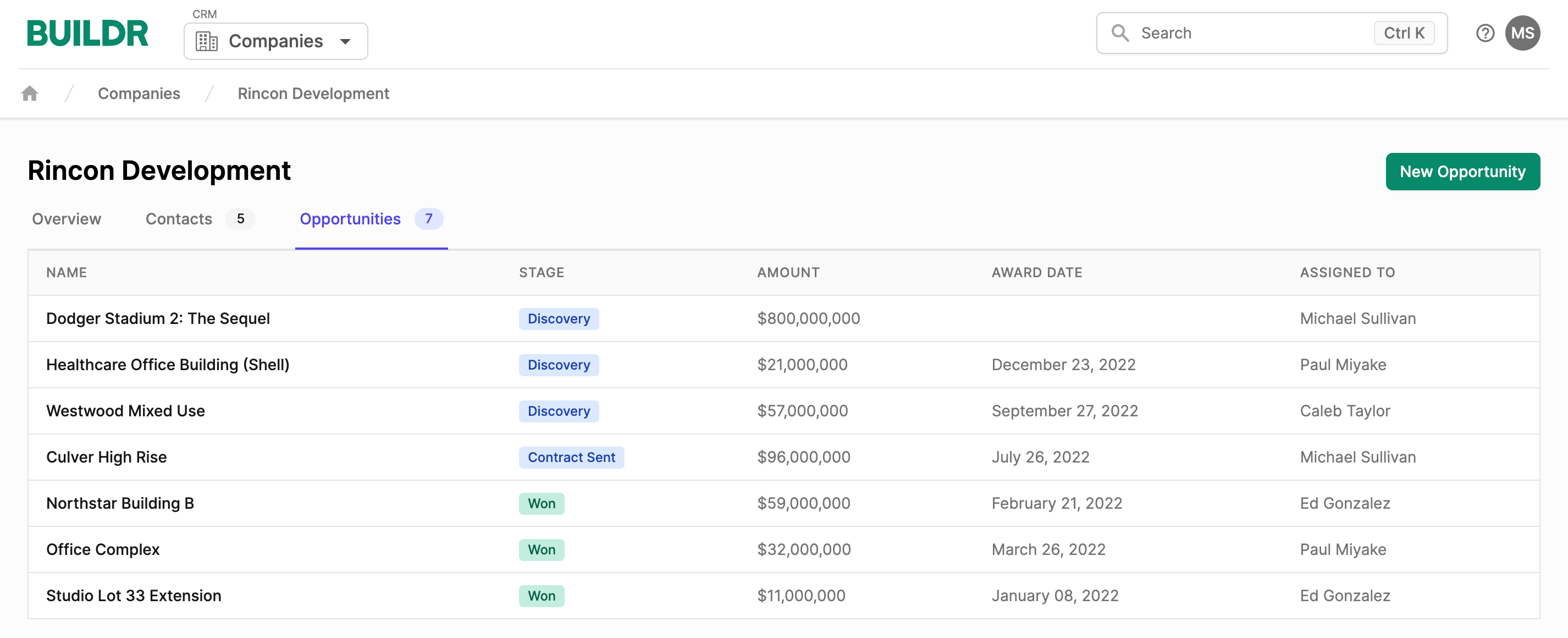 rincon
Next time, we'll get into Activities and Tasks, so we can pull in some other team members and more efficiently manage this once-in-a-lifetime opportunity that will surely swing my hypothetical general contractor company into the stratosphere if we win it.