Every year brings change, but 2021-2022 has especially altered the rules of employment. California is getting new off-duty cannabis rules, the IIJA threw billions towards highway programs, and pay transparency is getting the attention it deserves. Not to mention the employment laws awaiting in 2023, the list of which is exhaustive. And with this wave of new employment trends has come more open-mindedness in construction hiring, from a heavier reliance on social media to broader hiring practices based on translatable skills versus ingrained industry knowledge. 
As these rules for employment evolve in the construction industry, general contractors are opening their minds to new hiring trends. Due to an industry-wide labor shortage and a Gen-Z (and Gen-Alpha after them) who are anything but enthusiastic to enter the fold—opting instead for flashier industries—hiring desperation in construction is at an all time high. We know, we know. Construction can be flashy. Spot the Robot Construction Dog is flashy. We love construction, we're just the messenger.
Tips for Hiring Outside Construction
Pro: Bodies are bodies. The labor shortage in construction is so bleak that GCs are willing to train newcomers so that they don't spread their existing workforce thin. Let's get into the mindset of a general contractor that's already decided they need to look outside of construction to bolster their teams.
Leverage social media like your life depended on it (because it does)
Nowadays, it may not be enough to simply post a job opening on your site. The world is, sadly, social media-driven. Whether you're a 19-year-old influencer or father of three, sites like TikTok and LinkedIn feed you your daily helpings of Addison Rae, Gary V., and everything in-between. This goes the same for your potential hires; Indeed may be popular for applying, but the only way to flaunt your projects to hires is through the filtered lens of the most popular forms of social media. Don't worry, TikTok isn't yet a reliable construction hiring tool—just LinkedIn and Twitter for now.
Pro: Fresh perspectives are always a nice-to-have. Newcomers don't necessarily need to say The One Big Thing That Changes Everyone's Minds in a team meeting like they're the lead of a bad movie. But it's nice to be made aware of potential blindspots.
"Who you know," is more than a colloquialism, it's the 2022 job economy's WD-40. These days, hiring someone completely disconnected from any of your current employees' networks is nearly unheard of, especially if said hire is from outside of the construction industry.
Many times, people will post job openings at their company on LinkedIn or comment on their peers' posts to raise awareness, letting their network in on the post they may not have otherwise seen. These aren't necessarily HR or executive leadership folks posting; they're simply individuals who wish to sustain the quality of their current team. This is why non-execs posting about internal job openings is a good sign. It means people like working there and want someone from their network to join the party.
Your website is another great starting point, since it serves as the online hub for your company. It's your first impression to most people. And considering you want candidates to land there, bolstering your social media presence is a great way to drive traffic to your website. Of course, you can always rely on sites like Indeed and LinkedIn as hiring platforms, but mentioning your projects, company culture, and future plans on social media will help draw attention from potential hires who are also active on social media.
Of course, your employees flaunting how great your company is rather than the company itself will always reap a better harvest. We covered LinkedIn best practices in the past and the best ways to leverage it with your employees.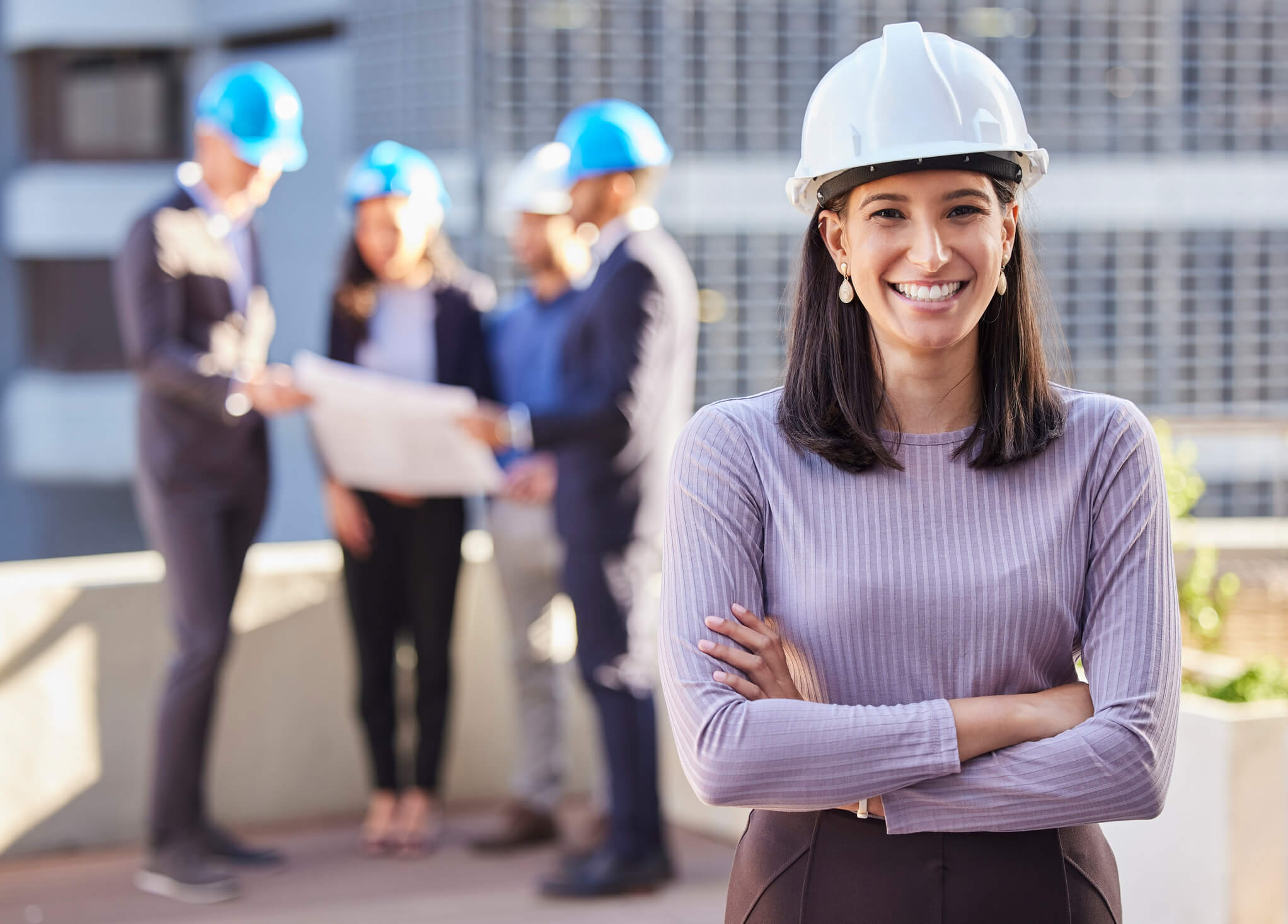 Blog
Bizdev for General Contractors: Developing a Strong Reputation Internally
Check it out
When construction expertise isn't necessary
Con: You need to train them a little more intensively, which takes time and money.
Sure, most jobs that you'll be hiring for as a GC will call for construction-specific experience. But does your IT person or sales team need to have a resume chock-full of stellar projects? Likely not. Some jobs that you contract out for won't call for specialized expertise. A killer closer can probably sell SaaS just as well as they can trade solar panels to the suburbs. Sales is specifically uniform across industries, which is why we're seeing more GCs hire sales people with little construction experience. Cold-calling, appointment setting, and earning signatures are integral to any business, meaning sales reps don't necessarily need to be construction aficionados to get the job done. 
Pro: Green = mean (Mean Joe Green's PR team likely coined this). To better explain:
Regardless of industry, fresh blood tends to be hungrier, ie., they're incentivized to learn quickly to catch up and stay afloat. Caution to the wind, novices propel themselves forward. Around them, judgmental eyes eagerly await a slip-up; any observable ignorance that reveals "see, they don't belong." Whether said judgmental eyes are actually just normal, unassuming eyes matters not. The savviest of the "new kids" imagine targets on their backs because they know the pressure, real or imagined, makes them better, faster.
Plus, a sales rep with a more varied skill set may be just what you need, versus a niched-down construction head who's more knowledgeable than they are skilled. It's similar to a technical specialist versus a pure sales rep—one person who knows the information, and another who knows how to break it down to the average person. In a department like business development, which applies to any industry, the context takes a bit of a backseat. It's really the work ethic, the drive, and the sheer grit of successful salespeople that decides how many projects are won and how many relationships are maintained for repeat business. A bit of city slicker charm never hurts either, as long as no snake oil is being shared.
An intuitive, construction-specific CRM helps get newcomers up-to-speed
Find out how leaving spreadsheets in the dust helps general contractors better run their business
Epilogue: always preserve your connections
Great Resigners. Great Retainers. Great Reshufflers. From waves of resignations due to lacking pay and work conditions to the springboard trend of job hopping, the number of employment phases in 2022 is enough to give you nausea. But boomerangs—those who leave for a while before coming back with additional skills and experience—are invaluable to any company. As a GC, hiring back a previous project manager or, on a macro scale, even a subcontracting firm that you had a previous relationship with can be integral to your projects.
As a larger GC with multiple project zones across the country hiring subcontractors depending on location of the next job is core to maintaining good business. A newer subcontractor with sliced prices may seem tempting, but may not be worth that five-year relationship you've built with George and his HVAC company. And although your longtime tile guy is increasing his prices due to good ol' inflation, that established trust is always preferred to a new subcontractor. Inflation hits us all, after all. So, keep those connections strong not just for healthy business relations, but because it reflects well on your firm's way of doing things. And that's invaluable no matter what industry you've fallen into.