Procore Groundbreak is less than a month out—September 19, 20 in Chicago, IL.
If it'll be your first time attending, you came to the right blog. If it's not, consider this a list of refreshers. We'll be going through the basics of what to expect at Groundbreak and how to get the most out of the conference no matter what your aspirations were when you bought your ticket.
"Groundbreak is my favorite construction conference, hands-down. It's the best and there isn't a close second," says John Andres, a construction vet and tech junkie whose opinion matters; the man's been to his fair share of conferences as ANDRES Construction's Director of Technology.
As the years pass and Procore further solidifies itself as the premiere course-of-construction platform with a massive suite of Procore-connected tools in its partner marketplace, it makes sense that Procore Groundbreak is the premiere annual construction technology conference. 
Let's get into some tips, strategies, and things to look out for at this year's conference.
Before the Conference
Research speakers, sessions, and vendors
Similar to a music festival like Coachella, session times will overlap. This means you'll have to strategize beforehand to know what your plan of action each day will be. Luckily, Procore publishes the conference agenda in advance. If you'd like to be extra-diligent and never have to think about where you're going, you should write your own schedule based on what most appeals to you in the agenda.
If you're on the preconstruction side, these sessions look pretty promising—
Preconference
8:30am "From Precon to Execution (Part 1): Using Field Productivity to Enhance your Estimate" by Procore's Khaled Kalawi and Aaron Maxwell
10:15am "Staying Profitable with an Effective Handoff Strategy: Leverage Procore Preconstruction and Project Financials to Streamline Hand-Off Between Preconstruction and Operations Teams" by Procore's Dylan Hahn and Nicholas Errigo
Day One
11:30am "Integrated Project Delivery & Lean Principles: Merging Collaboration and Technology for Success" by Geisinger's Patrick Jacobs and Tedd Seip, Procore's Tiffany LaBruno, and Francis Kauffman Architecture's Catherine Gow
Day Two
10:30am "Winning the Preconstruction Game: Strategies to Create a Thriving Backlog" by Brandon Weaver, Manager of Preconstruction at Mint Construction
There will also be dedicated time set aside in the conference schedule to walk around the vendor hall. While there won't be timed meetings like the breakout sessions, there simply won't be enough time to visit every single booth as there are too many. Do a little research on companies you'd like to chat with. whether it's a construction tech company you already partner with and want to touch base with, or another you were looking to get more pricing or feature info on. Having a laundry list of booths you'd like to visit ensures you won't forget to check one out, then slap your forehead later that night as you say "Oh great!" which is never a good look and hurts a little bit.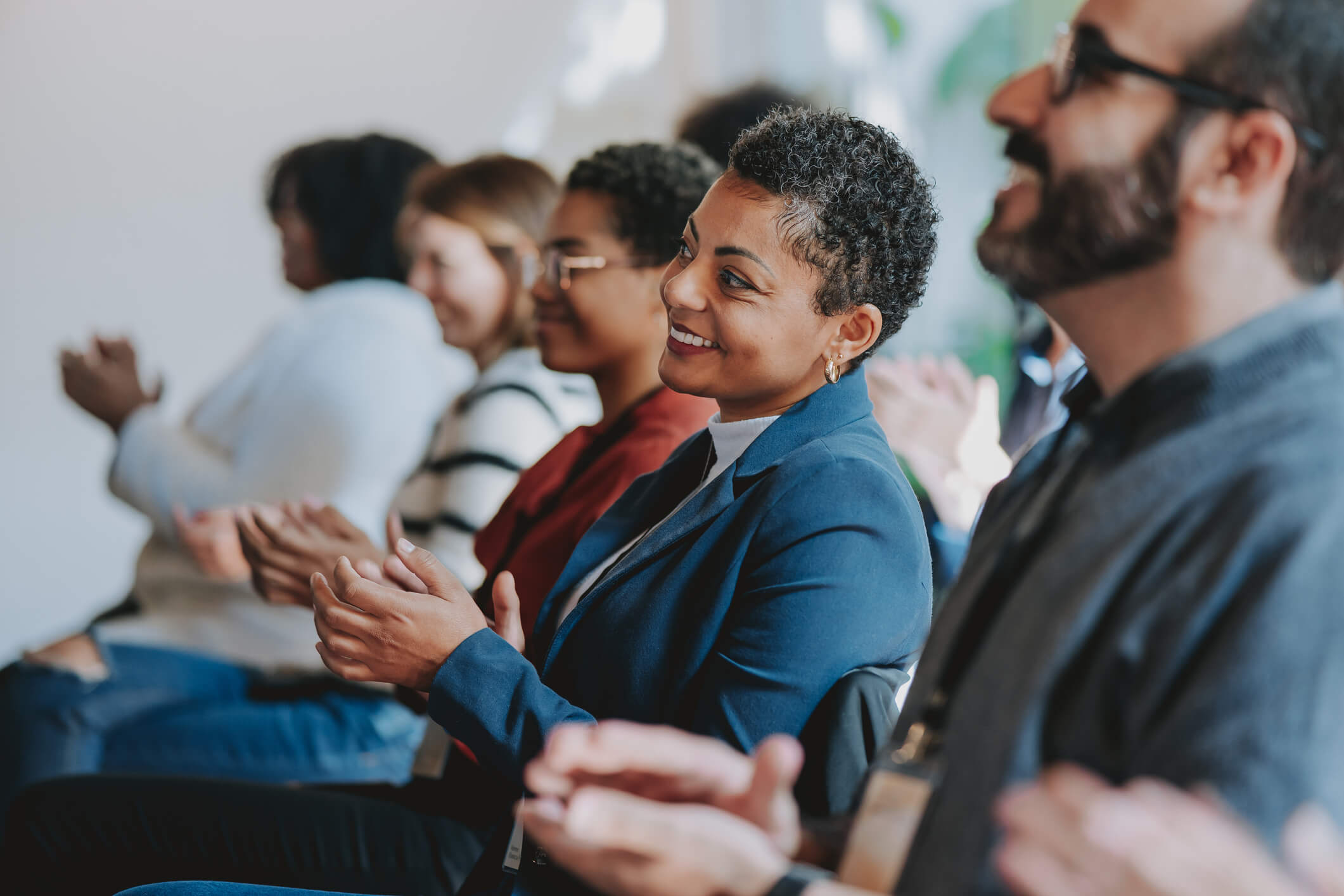 Blog
Top 5 Can't-Miss Sessions at Procore Groundbreak 2023
Check it out
Do some attendee reconnaissance 
Researching other attendees isn't required but it's a good way to make sure you have a support system when you're there. Search Groundbreak-hashtagged posts on LinkedIn and see who else is excited about going. Ask your friends around the industry if they plan on attending so you can establish a cohort. It's always easier to have a friend group at these things and a Groundbreak group chat over iMessage with your fellow conference-goers is a great way to never feel lost. 
If you're going solo, fear not. Believe it or not, people want to make construction industry friends. And there isn't a friendlier industry than construction. This is why having a mobile construction CRM is so handy—you can update data on the go without worrying about trying to decipher your notes later on.
Pack appropriately 
Blisters are the unspoken villain at construction conferences.
If there's one thing we can promise it's that with massive conference halls and various goings on around Chicago, you will be doing plenty of walking. Your Apple Watch will think you're at Coachella with how many steps you'll accumulate over the two day conference, so be sure to pack the most comfortable sneakers you own. Hokas, New Balances, heck Crocs. No need to consider what's fashionable, you should get in the mindset of a foot-preserving ER nurse.
You'll also want to find the happy medium between dressing comfortably and dressing presentably, two attributes that can occasionally be at odds. Lululemon's Commission Pants with "Warpstreme technology" (ahem, 53% Elastomultiester, 47% Recycled polyester) feel like you're wearing joggers but look like business chinos. They always get our highest praise and are well worth the price. There are many Commission Pant dupes out there these days, so if you're looking to save a buck you can grab some athletic chinos at Target.
We'll get to swag next, but be forewarned that you'll accumulate a ton of free stuff at Groundbreak. Packing as light as possible ensures you'll actually be able to take it back on the plane.
During the Conference
Bring a swag bag
Trust us on this one—you will acquire more conference swag than you could possibly take back home (this is where already living in Chicago comes in handy). Procore and nearly every partner are already planning on unloading their free goodies on you. It would be a shame to say no to any of it solely because you've run out of hands, so be sure to bring a backpack and a large tote bag. Speaking of conference swag, be sure to nab a custom Procore trucker hat—a Groundbreak staple. Think: frozen yogurt place where you pick the ingredients, except hats.
Visit the Buildr booth
Well, we couldn't publish this blog and not plug ourselves, right?
"I had to walk over here, there's just a good vibe," someone told us last year at Groundbreak New Orleans. If you were the one that said this, please look us up again. The vibes were absolutely mutual. This year, we'll have games including a basketball shooting contest and a golf putting contest with premium swag rewards. And if you've been to our booth in the past, you know we always have special little surprises to give out. This year will be no different. 
You should come by even if you just want a Buildr hoodie. We get it, they're super comfy. If you want to talk preconstruction and learn how our construction CRM and workforce management helps our clients better run high-performing businesses, we'd be happy to give you the elevator pitch or introduce you to some of our customers that will be there. Either way, you're getting a hoodie.
Don't bother collecting business cards
From personal experience, it's much easier to make a photo album in your phone and take pictures of every business card you receive. You can even add notes to the images to give yourself more context for later. This is much better than having your Lululemon Commission Pants pockets filled to the brim with the 241 business cards you collect.
Optimizing preconstruction is the key that unlocks high-performing GCs
CRM Essentials monthly plans start at $349 per month
Don't go too hard on Day One
On the first evening of the conference, there will be more Happy Hours put on by vendors than you'll know what to do with (or be able to attend). Not to mention, Groundbreak itself usually provides free alcohol toward the end of the afternoon. Be careful not to overdo it—the only thing worse than having to miss Day Two entirely is, well, attending Day Two hungover. But fear not—Liquid IV is the best friend you didn't know you had. The Buildr booth always comes stocked so take a trip over there if you're hurting on Day Two.
Don't forget to eat and drink water
This section runs in tandem to the previous one. Even if you aren't drinking (or not drinking much), it's important not to lose track of hydration and caloric intake. Being inside a windowless conference hall can act as a casino in terms of time disorientation. It makes sense to pack protein bars and a water bottle just in case. 
Record sessions
Certain sessions at Groundbreak may be so good that you'll want to listen to them later like a podcast. If you're anticipating that you might want to record some chats, be sure to grab a seat in the first few rows of the audience and use the Voice Memos app to record. You can either share the recording with your team back home or throw the file into an AI that translates into text if you're craving a readable medium.
The Groundbreak breakout sessions are usually in smaller, echoless rooms that are great for high-quality recording. Main halls will have more people and chances for background noise but they'll also have a better soundsystem to combat that. There are plenty of AI-based audio services that remove background noise anyway.
After the Conference
Debrief your team
At the end of the day, if you're going to Groundbreak it's because your team has entrusted you to be their scout, acting as their eyes and ears on their behalf. Be open, friendly, represent your company's brand well, and absorb as much valuable information as you can to bring back to your team. Whether it's new insights on how to better utilize Procore, new vendors you think could slot into your tech stack, or even just a mountain of free swag you need to dish out to everyone like some sort of conference Santa Claus—rest assured, you'll get your money's worth at this year's Groundbreak.
To check out our picks for best sessions to attend, be sure to check out our blog Top 5 Can't-Miss Sessions at Procore Groundbreak 2023.