Why wait until next week's business development meeting to give and receive updates?
Buildr Collaboration enables everyone at your company to be automatically looped into any and every piece of a project's pre-construction lifecycle that matters to them—be it the micro, macro, or both. Introducing our newest updates:
Mentions 

Notifications

Subscriptions

Advanced Text Editing
We're excited to cover the topic of Collaboration, in part because it's one of the aspects that separates Buildr from every other construction-specific CRM on the market. Our unlimited-seat model means anyone can participate in the sales process—now with Collaboration, your entire team can work together like a well-oiled machine.
Collaboration is critical to success at every rung of construction, yet business development still tends to be siloed. For general contractors, rock-solid internal communication along with cross-company inclusivity can make a crucial difference in the execution of winning jobs and providing stellar customer experience.
All Hands on Deck
With more general contractors starting up and entering the market than ever, not to mention more general contractors breaking into new segments due to building trends and economic demands, today's market has never been more competitive. Winning a job is often decided by how well your team can stay on top of an opportunity. RFP responses, discovering leads, understanding follow-up, and how to prioritize it all—there is so much to keep track of that the GC with the most airtight collaboration will be the ones that stand above the rest.
Aside from winning new jobs, repeat work will continue to be the lifeblood of general contractors, meaning healthy customer rapport is tied to prolonged success. With 65% or more  of a GC's work coming from repeat customers (and 80% on average for Buildr users), it greatly behooves general contractors to care about and continuously water their existing relationships. Proactive customer relationship maintenance demands to be an integral part of your business development process—and just like winning new work, it's all hands on deck. 
Buildr's unlimited seat model is an intentional encouragement for Collaboration. Our CRM isn't just a sales tool; Buildr users consist of team members in business development, leadership, estimating, marketing, and operations. While each department may use Buildr for different reasons, they all have access to a singular pillar of information. The various departments of a general contractor have different personnel, priorities, software—even geographical locations. There's plenty of room for valuable information to fall through the cracks. That's where the updates to Buildr Collaboration come in.
Mentions
Our new Mentions feature enables team members to tag one another on opportunities, companies, and contacts. This makes collaborating on opportunities a breeze and keeps your teams synced up. There's no need to wait until next week's inter-departmental meeting to exchange crucial new developments.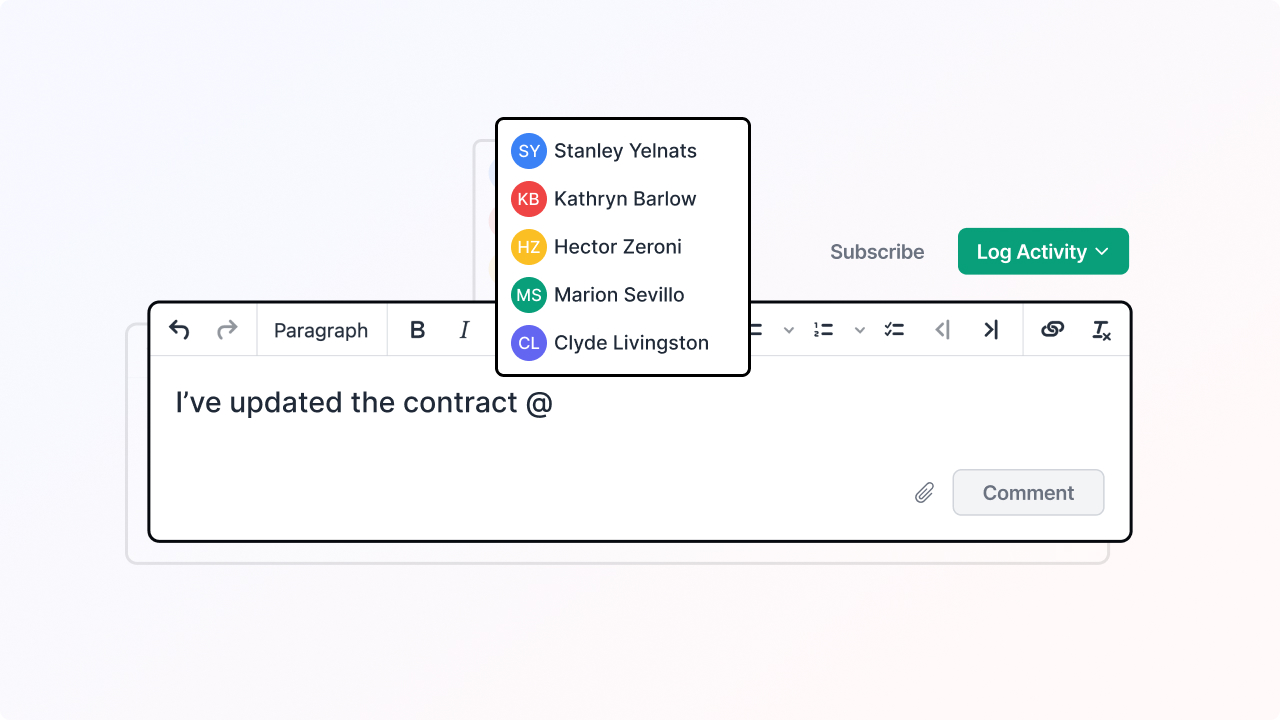 With simplicity as our UI North Star (and taking a cue from a feature that you may recognize from social media) we determined that typing "@username" in the text field would be the most efficient way to tag-in a team member. No dropdowns or searches, just that powerful little @ symbol that instantly pings whomever you'd like.
Notifications
Our newly improved and redesigned Notifications provide email reminders whenever a team member is mentioned or assigned to an item. Notifications are the process of looping in, in real time. Every activity linked to the opportunity/contact/company you're subscribed to will instantly make it to your inbox and your attention.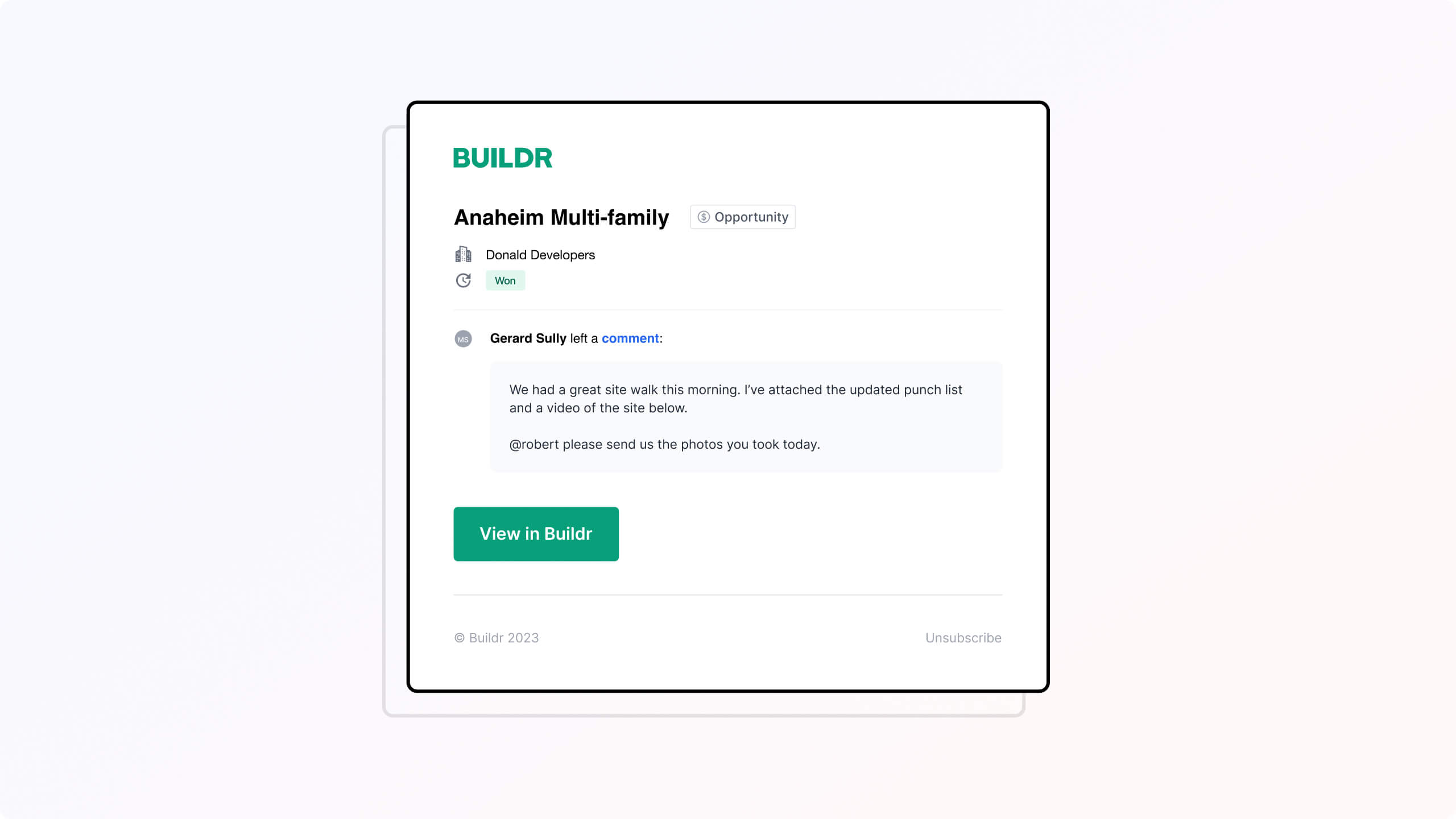 These automated pings provide all pertinent details including a link to hop into Buildr to view the item then and there. This feature is perfect for your always-on-the-go team members, as it ensures they're kept in the loop even if they're away from their desks. 
The freedom to wander while being more connected than ever before—this is a new era for construction business development.
Subscriptions
Ensuring your entire team has access to the latest project info at all times is crucial to becoming and staying the top general contractor in your market.
The ability to Subscribe to Activities on relevant opportunities, companies, and contacts in Buildr means your entire team stays up-to-date without the hassle of data upkeep or follow-up. New developments, priorities, meetings and tasks won't fall through the cracks; historical activity data stays tidy.
Think Marie Kondo-level organization and simplicity, but for your CRM.
When users are subscribed to an opportunity, company, and/or contact in Buildr, they'll be automatically looped in on the corresponding activity feed for that item.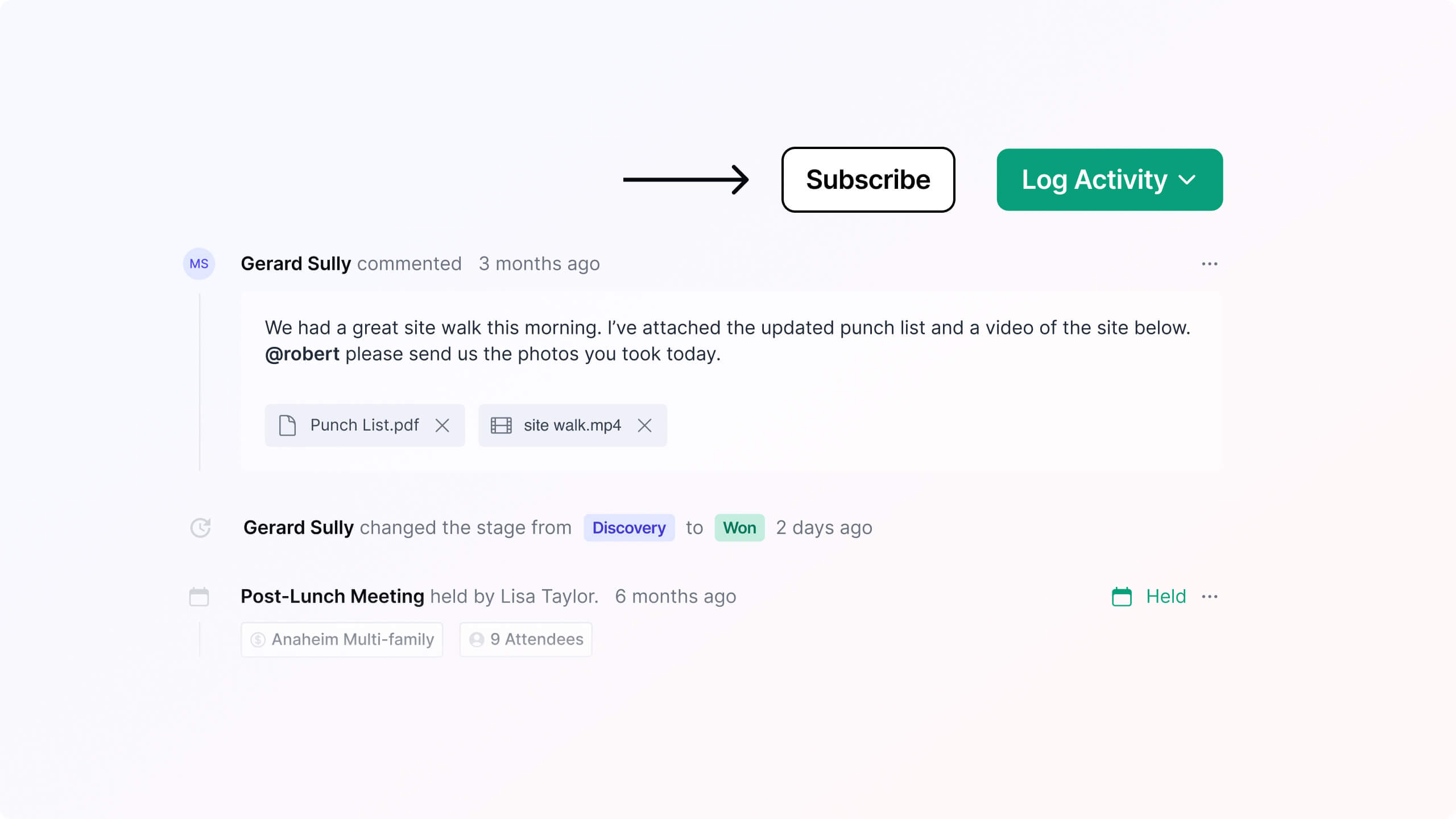 This information can include anything from new contact details, tasks they're assigned (such as follow-ups), to updates on project timelines, and changes in budget. Here's an illustration. Let's say there's a new opportunity with one of your repeat clients and you want to use Subscriptions to give yourself a competitive advantage:
All relevant team members Subscribe to the company.

One of your team members catches wind of a new project the company is thinking about and throws the news in the activity feed so everyone's in the know.

The team member with the closest relationship to the contact gives them a call and repeat follow-up tasks are scheduled.

Jumping forward in time to after you've won the job and finishing it is in range—your Subscribed marketing person is tipped off so they can make a trip to the site and take pictures for your website and socials.
When we say Buildr Collaboration promotes a "well-oiled machine" of a team earlier, you now get the picture. 
Advanced Text Editing
Last but not least, we gave the text field in your activities a makeover. You'll notice that there's now way more text editing functionality including: headers, bulleting, hyperlinking, text emphases like bolding and italicizing—all the freedom you're used to in most word processing apps are now ready to rock when you're logging activities in Buildr.
Advanced Text Editing provides users a modern, versatile text box that empowers your team to more precisely convey data. Users now have the ability to structure information in ways that enhance and clarify their message. This ensures their team has access to the most important information at all times. Speaking from our own experience, maximizing the tools of precise expression can only improve a team's communication.
For a refresher on keyboard shortcuts, we also added a handy shortcuts list if you click the "?" icon.
We designed Buildr to be the most collaborative CRM for general contractors on the market and we have some more features on the horizon that continue to align with that mindset. You deserve to keep your entire company informed, engaged, and connected.
Very soon will "catching up" and "getting filled in" be things of the past—that's right, we're coming for you, tedious in-person catch-up meetings.
Feel like your internal communication could use an upgrade?
A construction-specific CRM that improves collaboration makes a world of difference