Mustache,
 Whoops, we meant "hello." Sorry, we've just been thinking about Top Gun a lot lately.
 With Hollywood nailing 80s remakes/sequels, and in honor of Buildr client Turner topping the GC charts for the second year in a row, it's time we see a Turner and Hooch sequel. We'll help write it if need be. While we wait to get our paws on the first draft of that script, let's get into some news and notes?
---
CONSTRUCTION
Supply chains, labor shortages, and data centers, oh my!
The Turton Bond Marketing Report provides insight into the rise of data centers, and the importance of acknowledging the potential impact they will have on the industry.  
Cyber security, cloud computers, and IT are paving the way for an increased amount of data centers.

JLL says that hospitals and data centers are the only two product types that can be classified as mission critical.

The construction of data centers is a huge undertaking, especially with the current inflation rate averaging 7%. The specific materials required, such as switchboards and other electrical equipment could provide setbacks for any plans to build data centers.
---
Code to joy... 
There are always new codes and regulations to keep up with for safety standards of buildings, and there will continue to be in the next 10 years as predicted by The Federal Emergency Management Agency (FEMA). 
On June 1 the White House announced the efforts to "modernize state, local, tribal and territorial building codes and standards."

The goal for FEMA is to push an improved outlook on safety and sustainability in the industry with the introduction of new codes and practices.

One specific requirement on the table is that all modernization projects above 25,000 sq ft will be designed for net-zero emissions. 
---
Back to the future of building...
The Association of Equipment Manufacturers (AEM) released a whitepaper claiming to predict the (drumroll) Future of Building. There are 10 trends to keep top-of-mind highlighted throughout the study. Along with the environmental transformation of the industry and the increased use of technology, the whitepaper also focuses on business operations. Some takeaways: 
Fewer workers, different skillsets.

Business models shift towards subscriptions

Construction data will reveal its value (more data centers!)

Cybersecurity becomes central to corporate strategy (again, data centers!)
---
⚡️Lightning Round
---
 NON-CONSTRUCTION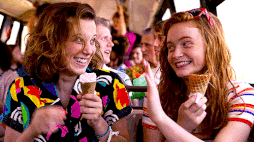 Apple said we can edit and unsend texts now