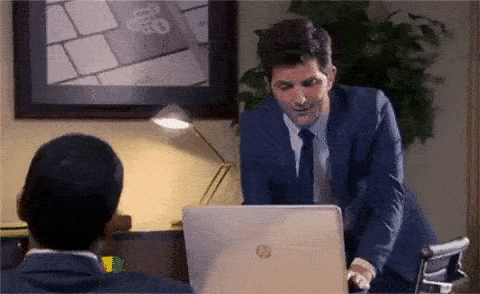 When you see the news that the phrase "Taco Tuesday" might go away
RIPTok: The clock's ticking down on TikTok's demise in the US—Montana becomes the first to move forward with banning TikTok over privacy concerns. Meanwhile Meta just has to pay hundreds of millions of dollars in privacy breaching fines every now and then and continue on their merry way.
Just perfect: Based on social media data and results on the internet, AI put together an amalgam of what the perfect male and female would look like. The results are as skewed and unachievable as you'd expect—the female is if a Disney princess was a Wilhelmina model and the male has a "natty" fitness YouTube channel with 7.5 million subs.
FreeV: There's a free 55'' TV... with a catch: a secondary screen below the TV that's constantly showing ads. "But couldn't you just drape a towel over the second TV?" you, an anti-capitalist, ask.
Strike 3: With writers on strike, here's what's happening to all our favorite shows. Severance, Yellowjackets, and Stranger Things are fully on hold while House of the Dragon remains unscathed, the writing completed months ago.
Driving Miss Daisy: The 19 best movie car chases, ranked. Checks list. Okay, we have Mad Max, Baby Driver, Matrix Reloaded, this list checks out. The only thing missing is our personal favorite, this car chase from The Raid 2.
For Whom the Taco Bell Tolls: In your classic David vs. Goliath setup—Taco Bell squares off against Taco John's over the rights to using "Taco Tuesday." Taco Bell claims that Taco John's legally withholding the phrase for themselves "is like depriving the world of sunshine itself."
HighQ: 13 phrases that show high emotional intelligence; number 14 would have likely been "Losing 'Taco Tuesday' is like depriving the world of sunshine itself."
The Biggest Loser: The Spurs will draft the best NBA prospect in a decade, and the rest of the winners (and losers) of the 2023 NBA draft lottery. Technically only losers get the best picks.
Speedrun IRL: Jamie "Adventureman" McDonald set a new world record by visiting the Seven Wonders of the World in less than 7 days. This sounds as physically and emotionally daunting as when we have to go to the DMV, Costco, and Home Depot in the same day.