Welcome to our in-depth product walkthrough series where we grab our magnifying glasses and get down to the nitty-gritty on a particular aspect of Buildr.
If you're interested in digging even deeper, here are our other product walkthrough blogs:
This week, our assigned blog task is, well, Tasks—an important part of Opportunity management that places an emphasis on accountability within the realm of business development. That accountability will be either for yourself or a teammate, but we'll dive into that more in a bit.
Let's check out our Opportunity "Dodger Stadium 2: The Sequel" within the Company that we know is looking to build it—Rincon Development.
As you get used to navigating Buildr, you'll find (or more likely build) shortcuts to your most intensive projects, but since we're still getting the hang of things, we'll take the long way to this specific Opportunity.
From our Dashboard, we'll click the dropdown at the top: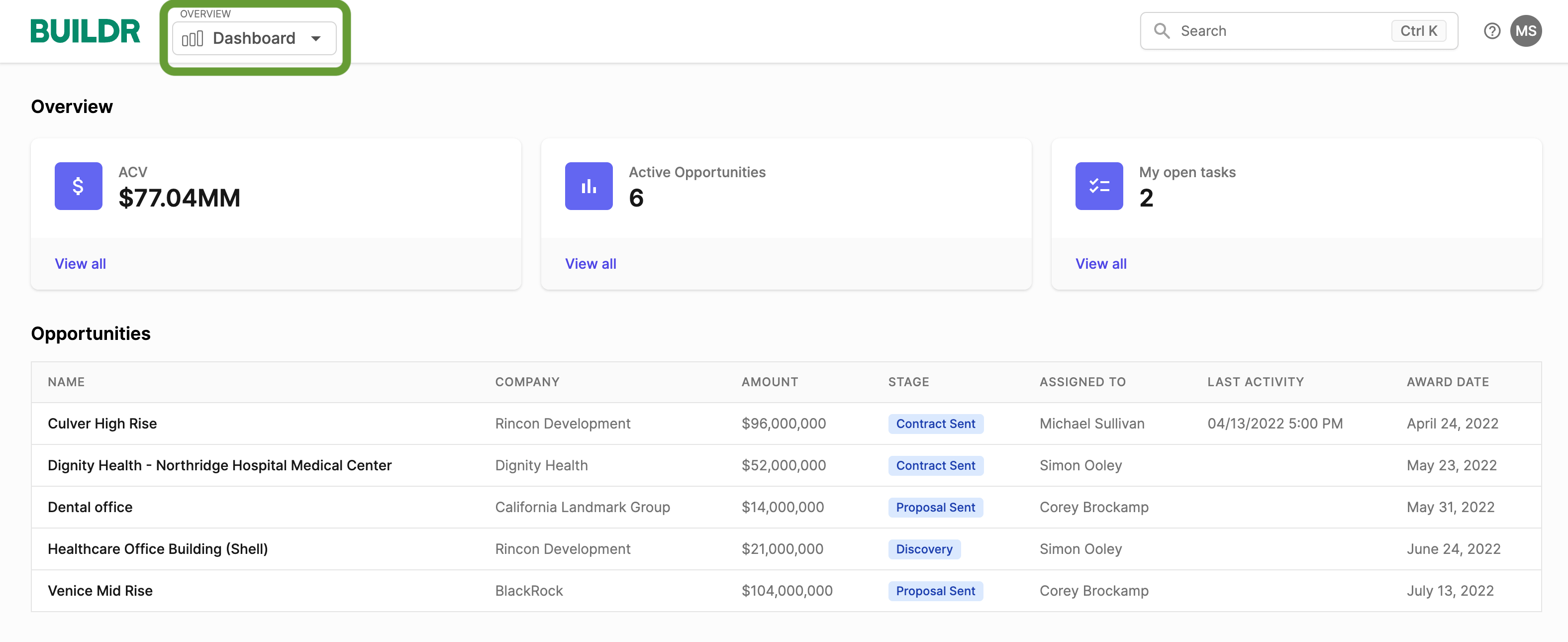 tasks
From the dropdown, we'll click Companies (you may have noticed that you also have the option to go straight to Opportunities or even Tasks in the dropdown; some aforementioned shortcuts. You're already a little ahead of the curve here. Impressive).

tasks
Then, we'll click on the Company we know our Opportunity is in, Rincon Development: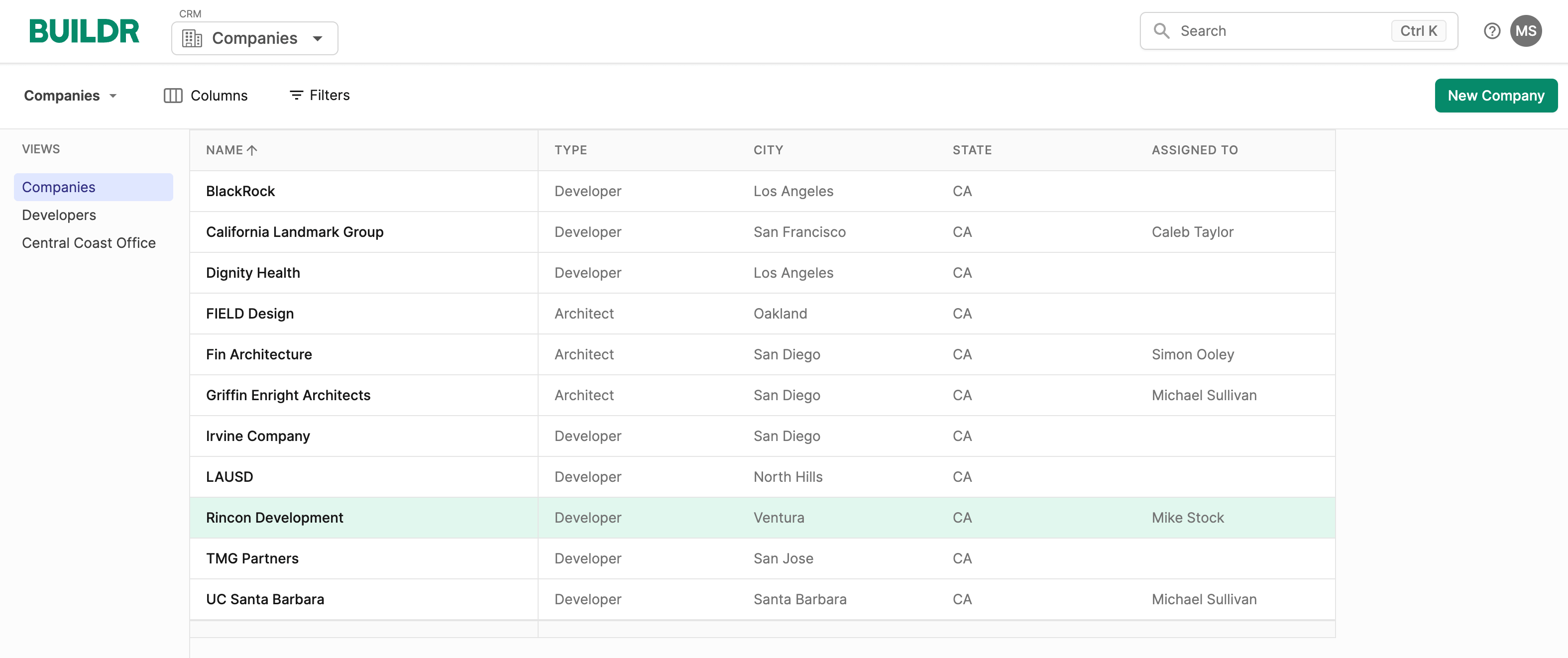 tasks
Now inside Rincon Development's specified Company page, we'll click Opportunities within Rincon: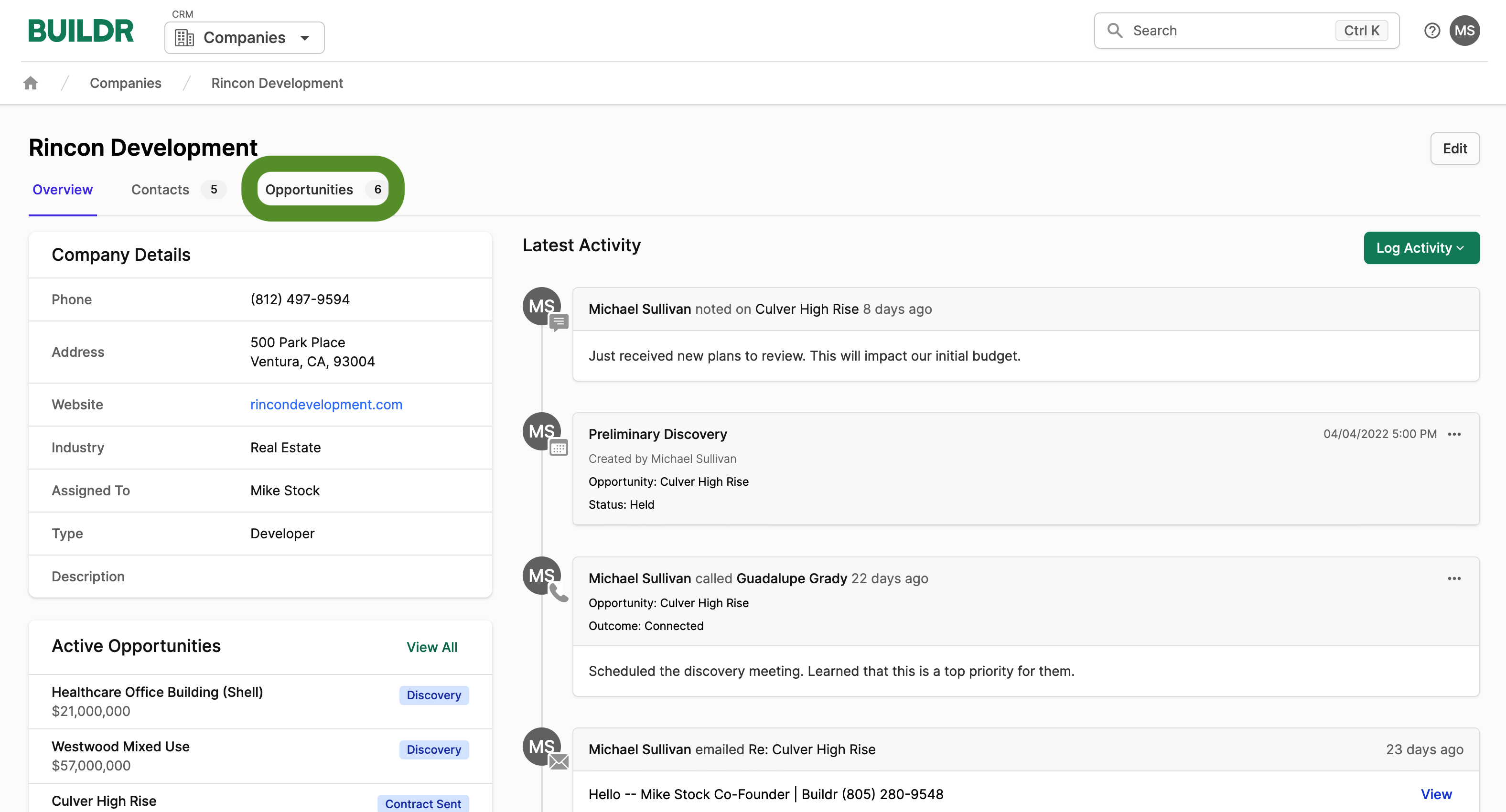 tasks
Then we'll select the Opportunity that we plan on setting up some tasks for: Dodger Stadium 2: The Sequel:

tasks
Finally, we'll click on Tasks on the far right of the Dodger Stadium 2 Opportunity page: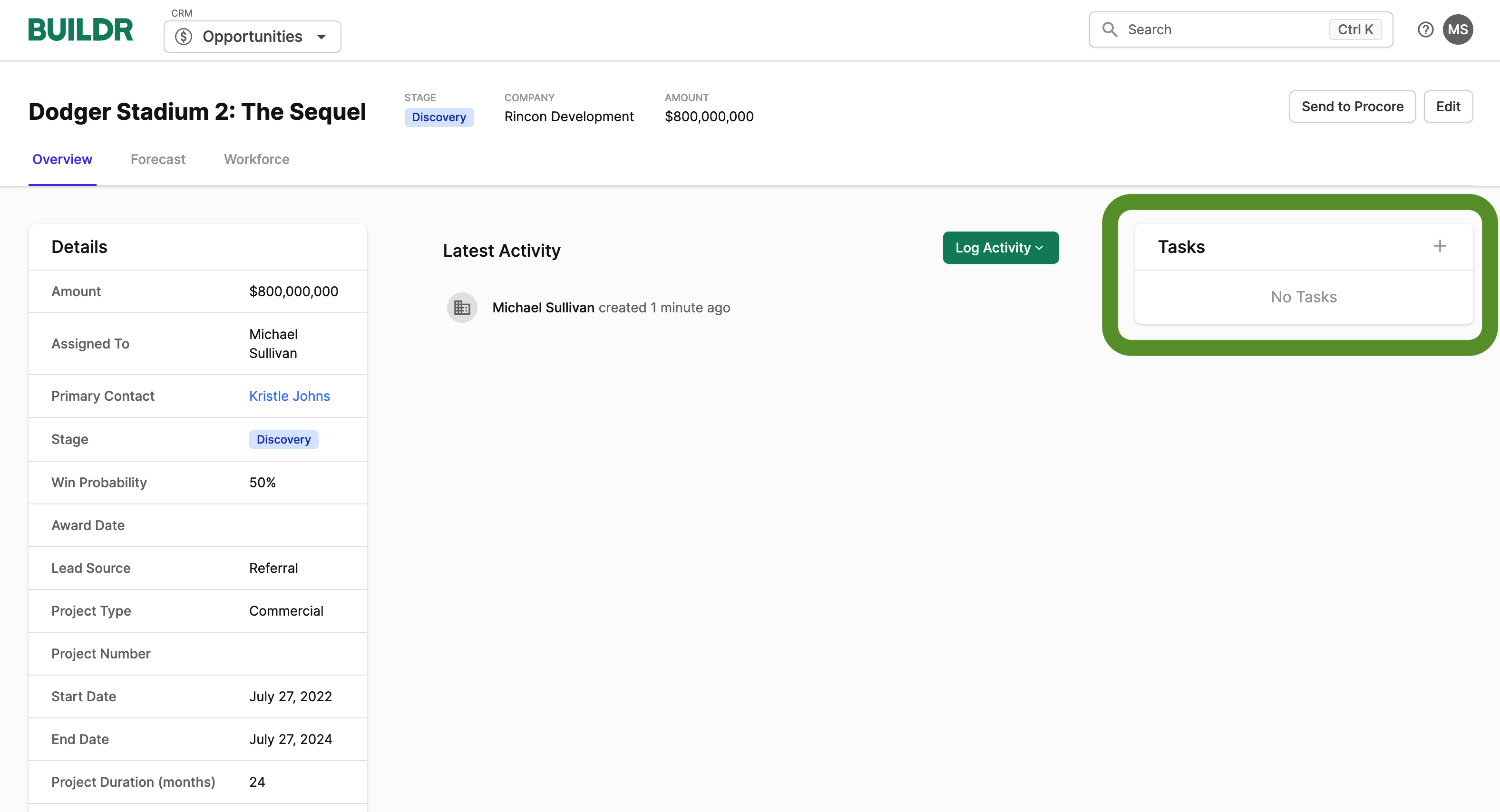 tasks
As you can likely tell by the design of the Opportunity pages within Buildr, Task creation is an integral component seeing as the space for the Tasks dropdown takes up so much real estate on the page. Note: We'll focus on the larger middle section, Activities, next time when some of our tasks are executed on as a sort of Part 2 to this blog (Dodger Stadium 2, now this. Guess everything has sequels these days).
Tasks are an integral component to Opportunity pages (and business development in general) because they are the primary method of staying on top of projects when using a CRM—Buildr, or any other. Task creation is a dynamic system of accountability that sets a CRM apart from a more analog means of Opportunity management within the construction industry, ie., spreadsheets or keeping it all in one's head (seriously, these are the two most common CRM placeholders general contractors are utilizing).
Humans are good at many things, but scaling accountability is not one of them. The more Opportunities in one's pipeline, the more difficult accountability will inevitably become. For the spreadsheeters and "it's all in my head"-ers, a common workflow plug before it starts to crumble again would include adopting a secondary tool for to-do's and reminders. That crumbling doesn't even take into account the concept of having multiple teammates on the business development side where communication will be disjointed and fraught with stepping on each other's toes (or anecdotally worse: letting tasks slip through the cracks in fear of stepping on each other's toes). With a CRM, you get to combine the data logging with the accountability, and the seamless inter-team communication; goodbye workflow clutter.
Schedule a Buildr CRM demo & mention this blog
You'll get a FREE Buildr hoodie or Buildr coffee mug
See a Demo
In construction, general contractors need any edge they can get to go above and beyond for their clients as well as be on top of potential ones. Task creation, collaboration, and timely execution of those tasks is an advantage GCs that utilize Buildr will have over their competition. Sometimes it's whomever is most organized and on top of an Opportunity that wins out above the rest.
Let's fill out our Task fields. You can give a Task a Title; we recommend using a verb to instill some sort of action. You can fill in any Notes that may be relevant to whom you assign the Task to, as well as the Deadline you'd like it completed by, and lastly the person you're assigning the Task to: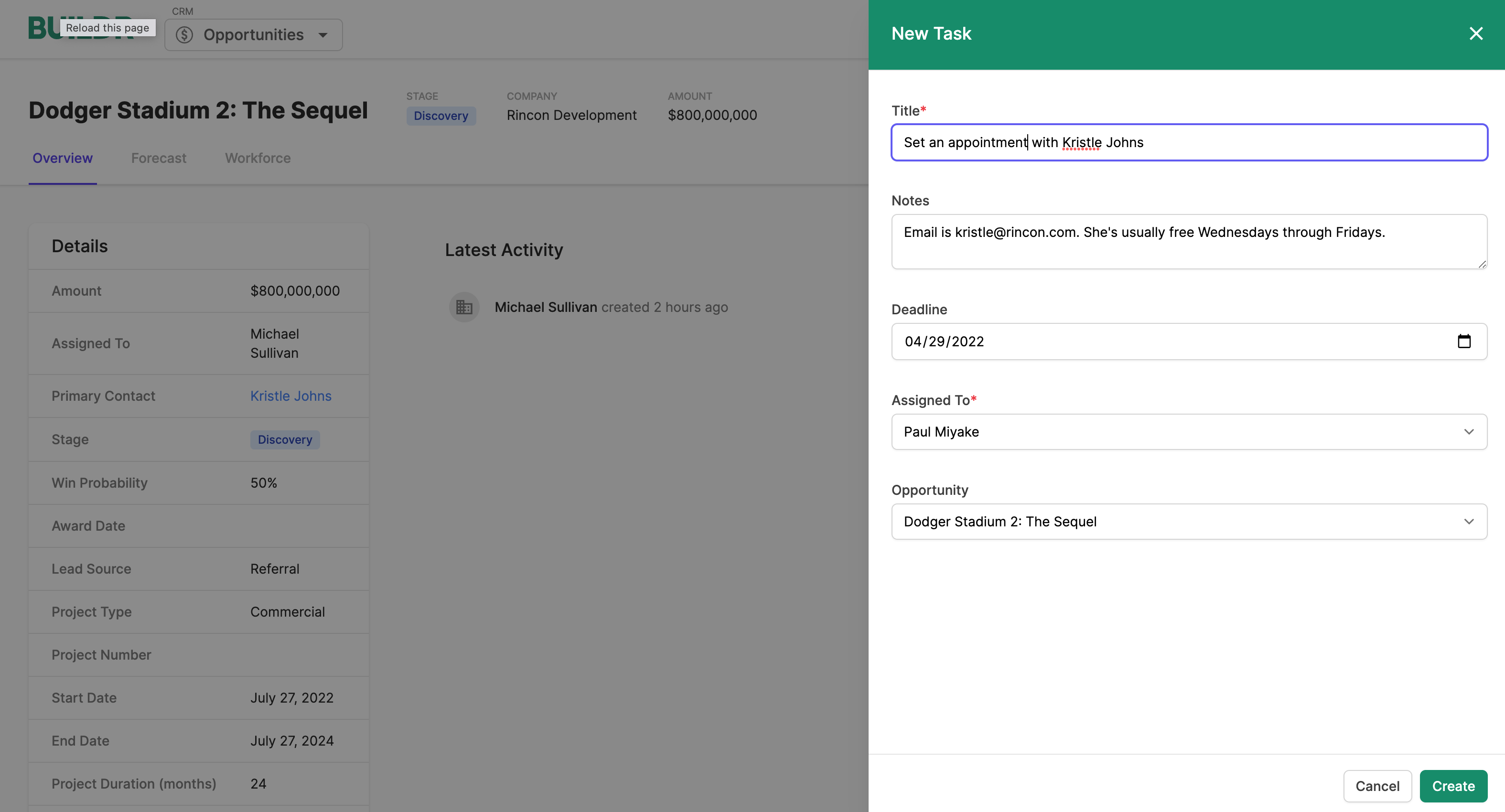 tasks
As you can see, I assigned the task of setting an appointment with our Opportunity contact to my teammate, Paul (his email etiquette is impeccable). Once you're ready, click Create and Paul will be notified of the Task.
Even if you'd like to assign Tasks to yourself (or very commonly, you're a one person bizdev team!), this workflow is still valuable. Until our brains evolve to be more organized, we all need a little accountability. Think of self-assigning like your past-self setting an alley-oop to your future-self, if that helps (I think one of the NBA 2K games lets you do something like this with two different eras of Michael Jordan).
Once created, Tasks will be automatically populated on the right side of your Opportunity page, complete with the deadline you set: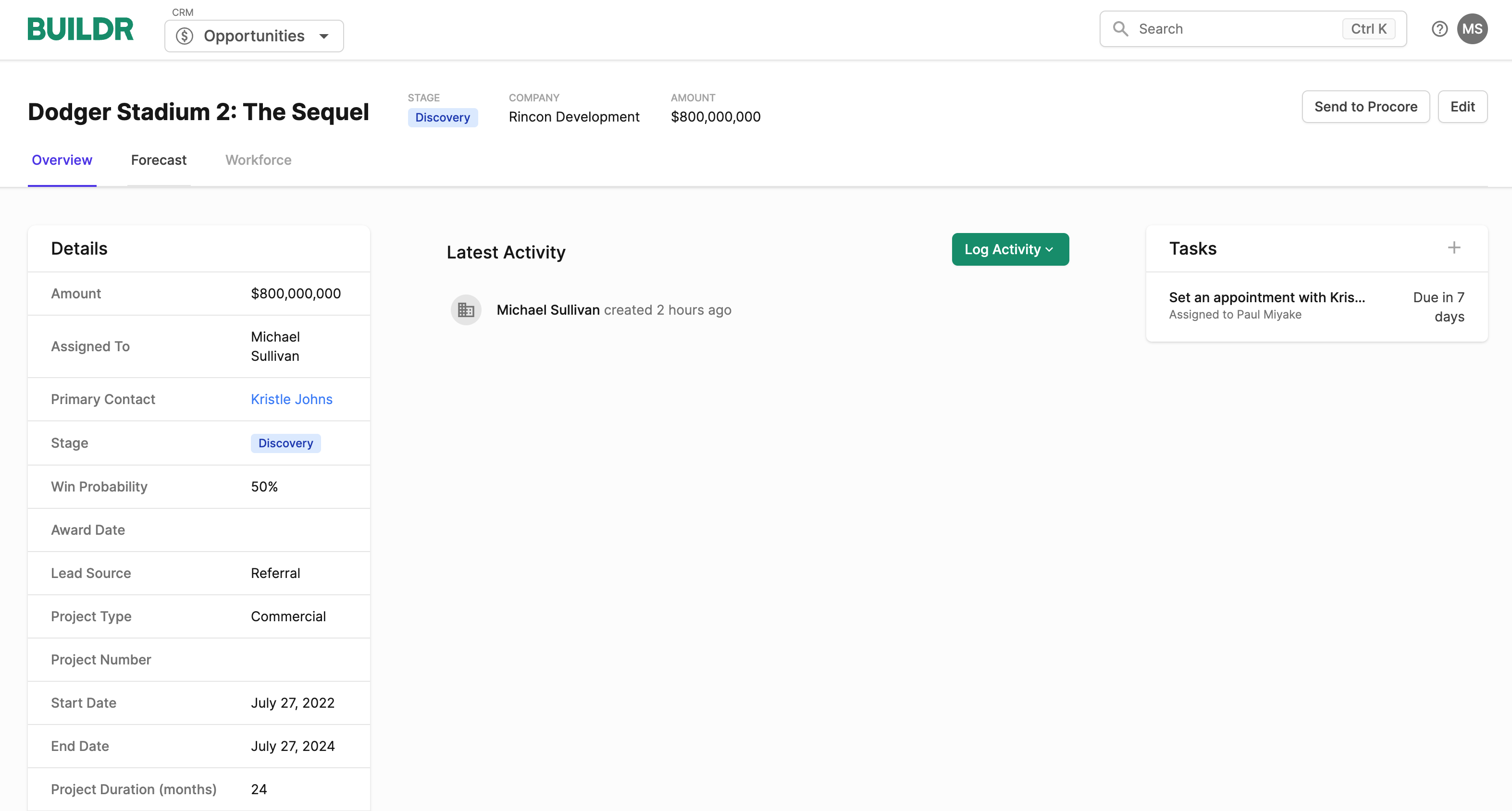 tasks
Once a task is completed, you click, you guessed it, Complete: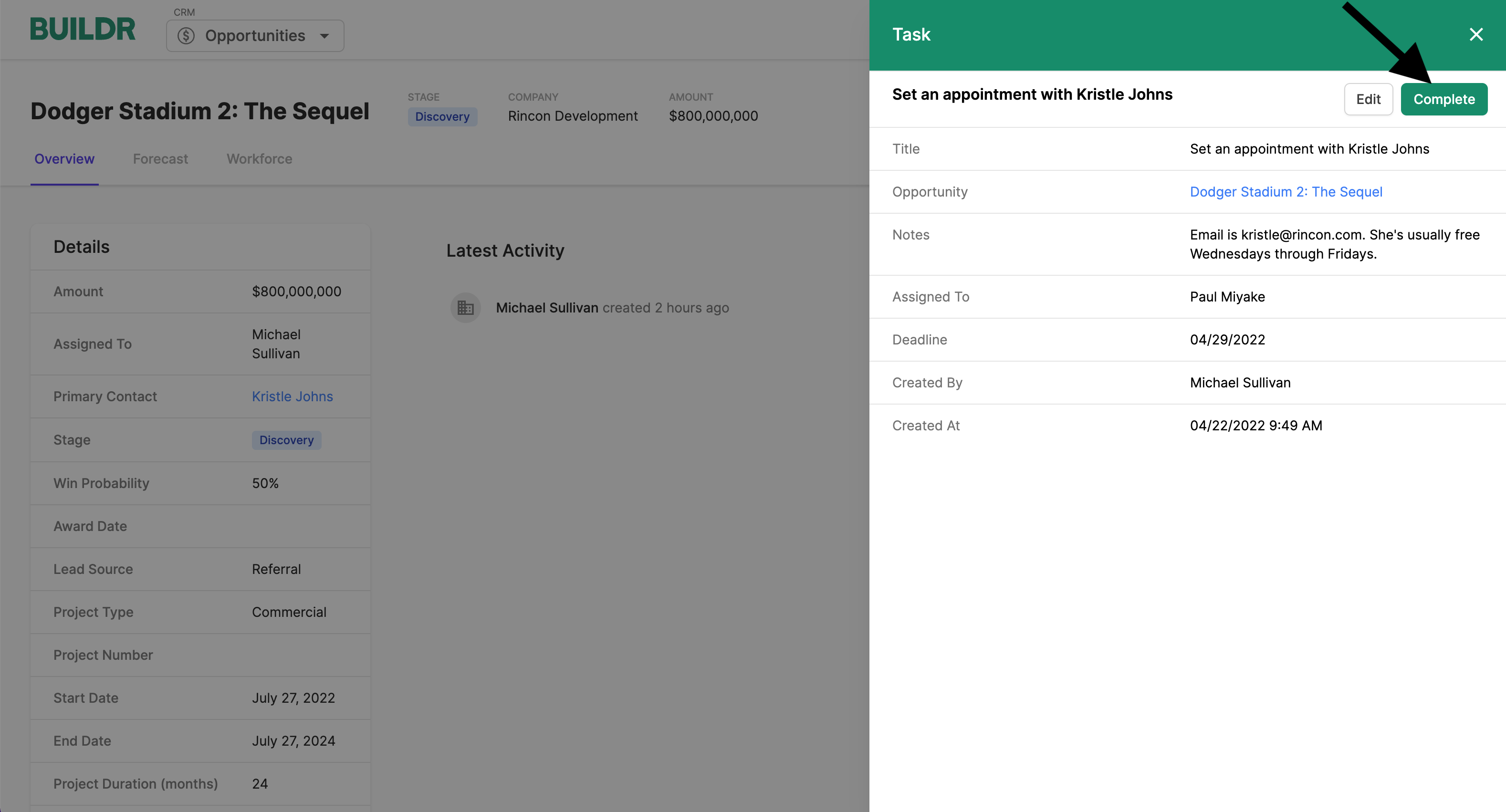 tasks
Upon completion, the Task will populate in the Latest Activity section in the center of your Opportunity's page:

tasks
Would you look at that? We're one step closer to landing this incredible project. Completed tasks will present you the full lifetime of your Opportunities every step of the way, which will give you some valuable empirical data that will help you improve the business development process you instill to win projects and maintain clients' good favor. Logged Activity is another feature that sets a CRM apart from more analog processes, but we'll get into that soon.
This is a perfect segue to next time when we cover Activities.